At the beginning of this month, the we presented a plan for how we'd attack the trade deadline as the general manager of the Seattle Mariners. But this team is so unpredictable that it was hard to know which direction to go. Now, with another 10 or so games of data to work with, it's time to tweak our plans.
So, what have we figured out over the past 10 games? I don't really know. The team hasn't faded since July 1, but they haven't exactly flourished. As of now, Seattle has won 6 of their 9 games in July, but just dropped a series against the Yankees, one of their chief competitors for a Wild Card Spot. But what we do know now that we didn't before is that Justus Sheffield, who we wanted to replace anyways, now will need a replacement as Sheffield is on the IL and likely won't return to the team until late-August at the earliest.
We also have seen the continued struggles of Jake Bauers and Dylan Moore (although both have some value off the bench) and have heard rumblings that Mitch Haniger wants out of town ASAP. The bullpen continues to shine and despite Yusei Kikuchi's worst start in months, there is optimism surrounding the rotation after a brilliant outing from Logan Gilbert and a positive step forward from Marco Gonzales.
Trying to peg exactly what type of team the Mariners are is still quite difficult. And while we had hoped to have clarity by now, we're not quite ready to call it one way or another. In all likelihood, we'll have a strong understanding on July 28th after the team completes a 13 day (12 game) stretch that includes 3 games against the Angels, 4 against Oakland, and 3 against the Astros. But other teams aren't likely to wait around for the Mariners to figure out how in they want to be and those teams ahead of Seattle (and directly behind) will also be making moves for a playoff push.
So the Mariners have this thin line to walk. They should be looking to supplement this roster, but shouldn't do it regardless of the cost. Rentals can make sense, but only for low-upside prospects or those who are 3-5 years away from sniffing the big leagues. Players with more than a year of club control are ideal, but just about every team in baseball is pursuing those players, so the cost will be a bit more substantial.
We also should remind ourselves that Seattle is going to add Jarred Kelenic and Cal Raleigh back to the big league roster soon, and hopefully Kyle Lewis in the not too distant future. While you don't want to bank on these three players being difference makers, you do want to get these three players plenty of at-bats in the final 2.5 months, so any deals made need to accommodate that goal as well. Let's take a quick look at what the lineup could look like any day, without any outside additions:
Mitch Haniger DH
Kyle Seager 3B
Ty France 1B
Jake Fraley CF
Cal Raleigh C
Jarred Kelenic RF
Dylan Moore 2B
Shed Long Jr. LF

If that is where we assume the lineup will be in short order, we can start to pick and choose where the strengths and weaknesses of the offense would be. So, let's keep that lineup in mind, and we'll see how different it looks going forward. With that in mind, let's get started.
Yes, I know many of you are scoffing at the idea of trading Mitch Haniger while the team is competitive. But as some of you might be aware, the Mariners desperately need starting pitching and a source close to the situation tells us that Haniger is frustrated with management and is unwilling to discuss an extension (edited for clarity) . There is also the argument to be made that Haniger is, in fact, overrated by Mariners fans (an argument I articulate in this free podcast episode) and can be used to better the team in other areas. With a sharp decline in defensive value and just a .312 OBP in his last 147 games, it's not totally unreasonable to wonder if Kelenic cannot adequately replace Haniger, or if another option can't be had.
What the Mariners do not have in their system is a #2 or #3 starter sitting in AAA Tacoma, which leads us to Charlie Morton. Morton, the one-time Houston Astros and Tampa Bay Rays starter is getting ready to finish up his 1-year contract (and possibly his career) with the Braves. But if Atlanta continues to slide, Morton would still bring immense value to the Mariners rotation, posting a 3.42 FIP and a 10.4 K/9 rate.
The Braves need outfield help both this year and in 2022 (when they hope to compete again) and while the Braves aren't cheap, only having to pay Haniger $6 million instead of spending in free agency will be appealing to them. But because Haniger has the extra year of club control, Seattle should look to get a little bit more than a rental starter, and Atlanta has several options. While a decent prospect could be appealing, Dipoto has shown an affinity for young player with MLB experience. Arms like Bryse Wilson and Sean Newcomb make sense here as two player the Braves may be ready to move on from(Quick Note: this deal isn't so much about Morton as it is to present an idea of trading Haniger for MLB help. Feel free to pencil in your pitching target).
So with this deal, the Mariners rotation now includes Kikuchi, Morton, Flexen, Gonzales, and Gilbert, which carries enough upside to do damage down the stretch run. But you'll need to replace Haniger's production somewhere…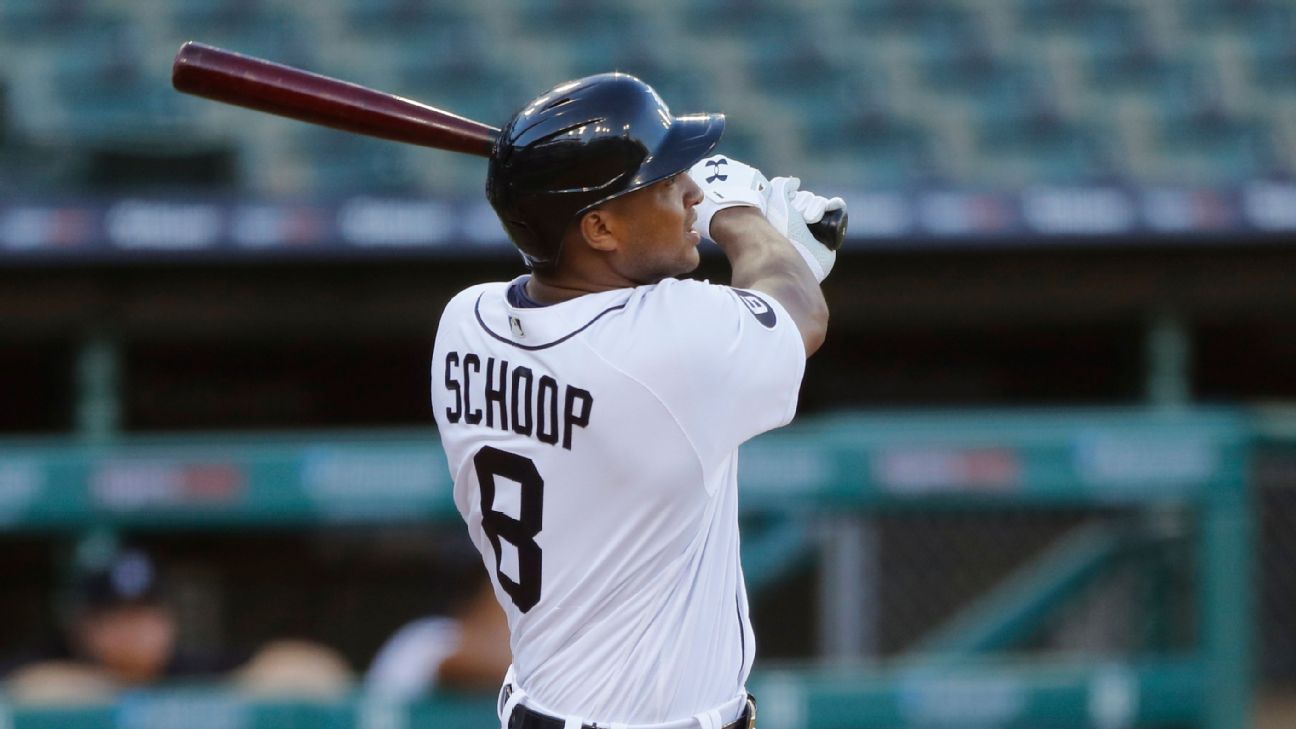 The Mariners have traded away a good bat to help their rotation, which means they need to improve the lineup elsewhere. One of the obvious spots to upgrade is at second base and there are a few options. Eduardo Escobar, Cesar Hernandez, Adam Frazier and our selection, Jonathan Schoop. He's currently hitting .275/.320/.467 with 16 home runs. Schoop has actually played a bulk of his games at first this year, which is a bit odd considering Schoop is actually a good defensive second baseman.
Schoop doesn't fit the "dominate the zone" mantra, as he walks at just a 5% clip and chases 33% of pitches out of the zone. But he doesn't strike out nearly as often as you would think and has no issue putting the barrel on the baseball. Schoop could hit anywhere from 2-6 in this lineup and actually replaces Haniger's production nearly perfectly.
Schoop is going to have a strong market, so you're not getting him on the cheap. Alberto Rodriguez was the return for Taijuan Walker last season and shows good tools, including good strike zone judgement and a swing built to hit for power. He's a corner outfield bat and he's having a good 2021 season, but he's at least 2.5-4 years away from sticking at the big leagues.

The Mariners bullpen has been great but expecting them to carry on as an elite unit without help is asking a bit much. Enter Rex Brothers, perhaps the most underrated reliever available on the open market. Brothers is having a solid season thus far, entering the second-half of the season with a .304 FIP and a 14.6 K/9 rate. He's had some issues with walks, but he's a quality high-leverage option who has dominated both lefties and righties this season.
In addition to adding a quality option in the bullpen, the Mariners also need a right-handed bat to play matchup with their now left-handed heavy hitting lineup. Mariners fans probably remember Jake Marisnick from his days in Houston. Once a top end glove, Marisnick hasn't produced the same level of defensive value with the Cubs, but it's actually the bat you want. More specifically, his bat against left-handed pitching. This year, Marisnick is slashing .306/.364/.551 against LHP, good for a 144 wRC+.
You'll need to use Marisnick in the correct role, as he's running 30% K rates and hes currently running just an 80 wRC+ against righties. He hasn't been the defender he used to be and he's not much of a base-stealer (although he is a good base-runner with plus speed). Other options to fill this role include former Mariner Guillermo Heredia.
After all these changes, what does the Mariners roster look like now? Let's take a look.
Catcher
Cal Raleigh
Infield
Ty France
Jonathan Schoop
JP Crawford
Kyle Seager
Dylan Moore
Outfielders
Jarred Kelenic
Jake Fraley
Jake Marisnick
Shed Long
Jake Bauers
Pitchers
Charlie Morton
Yusei Kikuchi
Marco Gonzales
Logan Gilbert
Rex Brothers
J.T. Chargois
Keep in mind, the Mariners hope to add Kyle Lewis to their active roster sometime in August, so while adding an addition bat like Nelson Cruz or Adam Duvall aren't a bad idea, it's not necessarily going to make a lot of sense. Let's talk about what this lineup could look like.
1.JP Crawford
2. Ty France
3. Kyle Seager
4. Jonathan Schoop
5. Jake Fraley
6. Luis Torrens DH
7. Jarred Kelenic
8. Cal Raleigh (healthy dose of Tom Murphy vs LHP)
9. Matchup with Moore, Marisknick, Long

Adding a good and healthy Kyle Lewis to this lineup only makes it deeper, which in turn, makes the bench more versatile with unique skill sets to give Scott Servais as many options as possible. This plan won't excite many, but it should make them a better team. While we want the big splashy moves like a trade for German Marquez or Kris Bryant, this plan allows Seattle to "go for it" in 2021 without sacrificing anything of significance for 2022. This plan improves the Mariners rotation and bullpen, lengthens the lineup without laying potential road blocks to young players, and gives them a better chance to doing damage in the playoffs IF they sneak their way in.
But let us know what you think of this plan. Would you trade Mitch Haniger for a veteran starter? Which bullpen arm are you targeting? Which bat are you most interested in. Let us know on twitter @controlthezone or in the comment section down below.