Baseball is back at T-Mobile Park as the Seattle Mariners get set to face off against… the Seattle Mariners. Today, the M's will field 16 position players and 10 pitchers in the team's first intrasquad game of Summer Camp at 2:45 PM PST on 710 ESPN Seattle and YouTube.
The game is expected to last six innings and will feature Justus Sheffield and Justin Dunn as the starting pitchers. Both are expected to go roughly two innings today.
Here's how the lineups will shake out for both squads: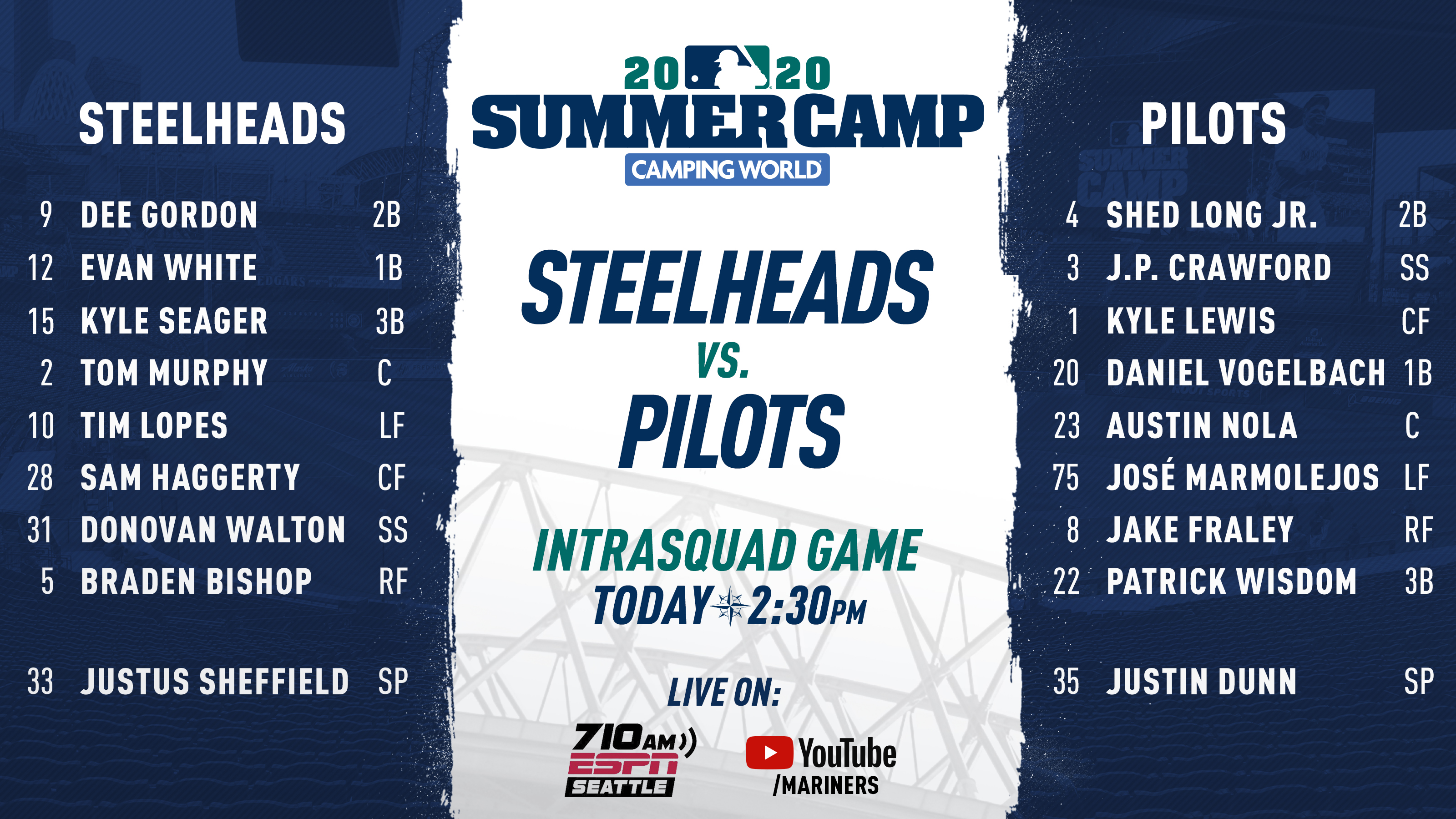 This post will be regularly updated throughout the day, leading up to the game and during it. We hope that you'll join us in the discussion in the comments section below!
Look at this as a bit of a test run for what we hope to do with live game chats during the regular season. However, if there is enough interest today, we may continue to do these for the intrasquad games.
1:20 PM PST: We have our pitching probables after Dunn and Sheffield wrap up their respective outings, per Ryan Divish. Once Sheffield's day is over, the Steelheads will roll out Nestor Cortes Jr., Yohan Ramirez, Taylor Guilbeau, and Carl Edwards Jr. In relief of Dunn, the Pilots will go with Nick Margevicius, Brandon Brennan, Taylor Williams, and Sam Delaplane. Some really fun names in there.
2:50 PM PST: We're underway at T-Mobile Park. Seems like there may have been a mixup in regards to the pitching matchup. Sheffield appears to be pitching on behalf of the Pilots rather than the Steelheads, forcing a pop fly on Steelheads leadoff hitter Dee Gordon.
2:55 PM PST: Good first inning for Sheffield. Gave up a hard hit ball to Evan White that was caught by Shed Long standing up the middle in the shift, but that's about it. Stayed in the zone and inflicted two weak popups on Gordon and Kyle Seager. Dunn's turn.
3:01 PM PST: J.P. Crawford takes Dunn for a ride on a fastball with a solo blast to right field. 1-0 Pilots early on.
3:03 PM PST: Dunn struggling with command here. Another misplaced fastball hit a long way, this time by Kyle Lewis. 2-0 Pilots.
3:10 PM PST: Dunn can't finish off the inning as he hits his pitch limit following a walk to Austin Nola. Not great. Poor command.
3:16 PM PST: Tim Lopes sneaks a one-out single through the middle off a pitch down in the zone from Sheffield, then steals second on the following pitch.
3:17 PM PST: On the broadcast, Jerry Dipoto says that Mariners' staff played quite a bit of Out of the Park Baseball 21 and felt they learned a lot in terms of situational decisions with the game.
3:22 PM PST: Crawford commits an error on a rocket off the bat of Donovan Walton. Runners at the corners, two outs for Braden Bishop.
3:25 PM PST: Sheffield strikes out Bishop swinging on a nasty slider. His day should be done. Looked good.
3:29 PM PST: Dipoto says Jose Marmolejos has a really good chance of breaking camp with the club. Marmolejos hits a rope down the first base line that's snagged by the elite glove of Evan White.
3:31 PM PST: Dunn responding well here in the second inning. Two quick outs with a three-pitch strikeout of Jake Fraley.
3:34 PM PST: On a beautiful breaking ball, Dunn gets Patrick Wisdom looking for his second strikeout of the inning, and his day is done. Good bounce back.
3:38 PM PST: Cortes in now for Sheffield and he gets two quick outs, going down to a low sidearm slot on a backwards K of White.
3:51 PM PST: Yeah, so Kyle Lewis is on a fucking mission. Another home run, this time to right field on an outside breaking ball from Nick Margevicius. Mercy. 3-0 Pilots.
3:59 PM PST: Lopes jumps on the first pitch from Yohan Ramirez off the right field wall for a leadoff double in the top of the fourth.
4:06 PM PST: Poor command here from Ramirez. Back-to-back walks to Fraley and Bishop. Gordon up to bat with bases loaded, two out.
4:07 PM PST: Gordon puts one through the first base hole, scoring two. 3-2 Pilots now. White now up with runners on the corners.
4:09 PM PST: White fights an inside pitch off up the middle for an RBI single to tie the game at three runs apiece. Seems Ramirez has hit his pitch limit for the day as the Mariners are now running a situational drill. Rough day for him.
4:19 PM PST: Good outing for Brandon Brennan, packing the zone and inducing weak contact. Taylor Guilbeau now on for the Pilots.
4:30 PM PST: A Tom Murphy stolen base!
4:36 PM PST: Inning started off strong for Guilbeau, but he hits his pitch limit after walking Lopes and the top half of the fifth comes to an abrupt end. Taylor Williams now warming up on the bump. Still 3-3 tie.
4:44 PM PST: With two homers already in his pocket, Kyle Lewis may have just accomplished his best feat of the day: a mere walk. Down 1-2 in the count, Lewis worked himself a free pass with a close take on the final pitch of the at-bat. Really good sign for his plate discipline.
4:55 PM PST: We have a Cal Raleigh sighting! Unfortunately, he looks rather overmatched by the Major League stuff of Carl Edwards Jr., who gets our local Beef Boy to whiff on a good breaking ball on the outer half of the zone for a strikeout.
4:58 PM PST: Edwards vs. Evan White was fun. The two duelled to a 3-2 count with White winning the battle on a called ball four. Also, it appears White hit ahead of Dee Gordon in the batting order, oops. Scrimmage game things.
5:03 PM PST: Sam Delaplane is in! *plane sounds*
5:09 PM PST: We may have a potential walk-off on our hands. Marmolejos and Fraley reach on a pair of walks. Delaplane struggling to put guys away.
5:15 PM PST: Two hours and 25 minutes later, the game ends in a tie.